This post is one from my archives. Enjoy!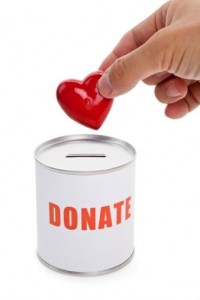 Recently I have experienced the major drugstore and grocery chains have asked me to donate to a variety of causes when I check out.  Because my belief is that you cannot ever give too much, I am not offended.   Fortunately, when my "ego" falls into lack and limitation thinking, my positive thinking kicks in and I donate very willingly.  The feeling of inner joy I have afterward is so uplifting.
Today I was in the Walgreens near my home.  Again, I was asked to donate and I agreed.  After the woman at the register checked me out, she stated, "you have just received a free certificate to use in Walgreens for double the amount of your donation.  This was such a clear message and reminder to me that the Laws of the Universe are real.  In the last few days, I have donated several times in the same way and nothing happened!  Each time I donated, I said to myself, "of course when you give you will get back." Having no expectation of what I would receive or how, the phrase increased my belief each time I stated it.
By repeating this affirmation, I have truly been able to experience how the universal Law of Cause and Effect works.  This has brought me large and small door prizes, upgraded hotel rooms, free airline tickets, increased business and much more.
Many of you know that one of my consistent themes is using positivity in your words and thoughts along with believing them as best you can.  It's never too late!  Just be aware that it doesn't happen immediately, it's a process that takes time.  If you hang in there, you will not be disappointed.